In Car Entertainment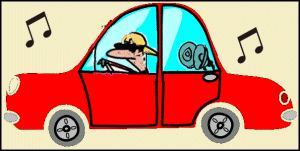 From humble beginnings as mono car radios, car entertainment systems progressed to the eight track stereo systems of the 1960's and 70's. These were superseded by radio/cassette players, as the quality of reproduction improved on tape cassettes. Finally, we see the rise to prominence of the radio/CD players which are commonplace today. As mp3 and other compressed audio formats became more popular, manufacturers started to produce head units that were capable of playing mp3 tracks which had been burned to a CD. Some head units are fitted with an auxiliary socket into which a portable mp3 player can be plugged. The global success of the iPod and its clones, has shown that people like having their own music collection available to them wherever they go. The huge capacity available on the hard drive of a car computer makes it possible to extend this to your car entertainment.
But why stop at audio? With a DVD drive as part of your carputer installation, or with DivX files stored on your hard drive, your car entertainment system will also show videos. (Not when you are driving - that would be not only highly dangerous, but illegal). You can keep your passengers entertained, while you concentrate on the driving, by adding headrest monitors for the rear seat passengers.
Convinced?
- Click
HERE
to start configuring your Car PC.

Whether you install a front end to access your music files, or use media player software such as Winamp, VLC Media Player, Media Monkey or any one of a host of others, you can configure your software to operate in ways only limited by your imagination. You can have playlists to group together artists, year of release, Style of music, your personal top 50, fast, slow, instrumental, speech, in short any way you choose to group individual tracks together. When was the last time your car stereo allowed you to do that?
You can watch DVD's with all the functionality (probably more) that you would have on your home DVD player. This is one for your passengers rather than you, but hey .... don't be selfish - you've got a host of other features to play with.
Just as the mp3 format has slashed the file size needed for audio files, the DivX format has done the same for video files. It is possible to compress a full length movie to a file size which would fit on a CD (about 700MB). But why bother with a CD when there is plenty of room on your hard drive?
Codecs
Irrespective of which type of media file you wish to play on the carputer, you will need to ensure you have the appropriate
codecs
installed. Some applications will install the correct codec, but you may decide to go for a package such as the
K-Lite Codec Pack
which means you are already prepared each time you encounter a new media type.

Jingle Jangle Journeys
- Tell us about
your
favourite driving sounds

CLICK HERE
to start building a specification for your carputer
« Return HOME from Car Entertainment