The Optical Drive
An optical drive is the term used to describe CD, DVD and Blu-ray drives. They use laser light to read and write data to and from the CD or DVD. Some drives are only capable of reading from discs, others can also write to them.
Space is normally limited in a car PC enclosure. If you only make occasional use of a CD or DVD drive, or if your PC is installed in an inaccessible position, you may wish to consider an external USB drive. However, before deciding this, make sure the BIOS on your motherboard supports booting from a USB drive, otherwise you are going to have a problem installing the operating system.
If you choose a USB drive, make sure it can be powered through the USB port and does not need mains power. If connecting through a hub, you may need to consider something like the T3 Hub, which registers itself on your system as a self- powered hub, so that it can accept devices that have a nominal power requirement of up to 500 mA.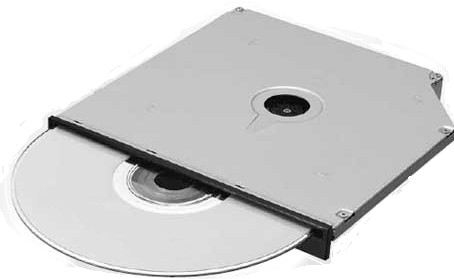 Slim slot drive as supplied in car CD Players
In the interest of maximum flexibility, I recommend you get a DVD drive rather than a CD drive. It is not much more expensive but gives you flexibility in the media you can use with your carputer. It also allows you to install the operating system and application software from DVD's as well as CD's.
For a car PC, a DVD burner is probably overkill. Most people are unlikely to burn DVD's on their car PC. However, the price differential between read only drives and read/write drives has been steadily dropping. You may want to install one "just in case." If you buy an external DVD drive, definitely go for a USB DVD writer. You can move this between PC's and it obviously gives you more flexibility.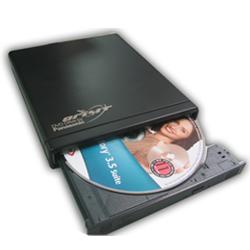 Slimline tray Drive
If you fit an internal optical drive, space in your auto PC case will almost certainly be limited. Go for a slimline drive. A slot drive such as the one shown above is a more elegant solution; however, be aware that you can only use standard 120 mm CD's and DVD's in this type of drive. You need a tray drive such as the one shown to the left for the smaller mini CD. Driver hardware is sometimes supplied on these mini discs. If you buy a slot drive, you will need to burn the contents of any Mini CD's to a standard 120mm disc.
For tucking out of site or occasional use only, an external drive such as the one below is ideal.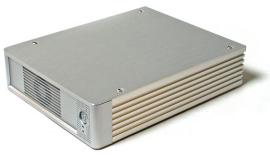 External USB Drive