Hard Disk Drives

If you're reading this, the chances are you've decided to go with a conventional hard disk drive. If this was on grounds of cost, don't worry. Even if you buy a relatively cheap hard drive, it should prove reliable if you follow the guidelines shown below. After all, you can swap this out for a SSD at a later time once the prices have come down some more. When you decide to build your own computer, remember it is modular and if necessary, you can change computer storage devices at a later time.
Choose a capacity which gives you plenty of space for all your media files - then double it! Trust me! As time passes, you will need more space than you originally thought.
Unless you have chosen a large case size, you should go for a 2.5" hard drive. These smaller drives are normally more expensive than a 3.5" drive of an equivalent capacity. However, apart from occupying less space, these are designed for laptop use, and should better stand up to the mechanical shocks which will result when using in a car. They also use less power than the larger drives.
If possible, mount the drive vertically to minimise the risk of any jolts bringing the read/write heads into contact with the platters.
An array of mirrored disks will give some measure of protection against disk failure and data loss, but.......I advise you not to bother.
My advice is to stick with one drive in the car, and copy the data to a different PC, or some other form of storage in your home. For any number of reasons, e.g. if your car were stolen, you need to have a back-up copy of your data in a place you know you can access.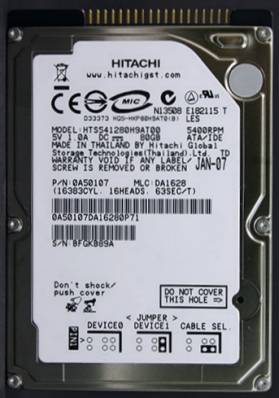 Check the manufacturer's data sheet for the range of temperatures in which the drive is designed to operate. Is the car normally parked overnight in sub-zero temperatures in winter? Do you experience very hot temperatures in summer? Consider where the PC will be installed. The average temperature in the boot (trunk) will be lower than that inside the car.
If you habitually subject your car to very rough terrain, or extremes of heat, you may want to consider something like the Hitachi Endurastar hard disk drives. The drives in this range are designed for greater HDD life as they have better shock resistance, and depending on the model, will operate in temperatures as low as -30 C or as high as +85 C. Currently the maximum capacity is 50GB and the drives are only available with a PATA interface. A SATA drive will almost certainly be planned for the future. Get your Endurastar drive here.